"History may be searched in vain for an equal march of infantry. Half of it has been through a wilderness where nothing but savages and beasts are found, or deserts where for lack of water, there is no living creature found"
The Fort Moore Garrison is a 501(c)(3) nonprofit corporation whose primary objective is to shine a light on one of the most interesting, and often overlooked, events in U.S. History.
We are committed to educating, inspiring, and helping the public understand the significance of this remarkable story of the Mormon Battalion—the largest (and only) unit of soldiers ever organized by religion—and the lessons learned that still impact our lives today. Every year, members of The Fort Moore Garrison gather to reenact the first Fourth of July Flag-raising in California, first occurring on July 4, 1847. This gathering takes place at The Fort Moore Pioneer Memorial in Los Angeles and this important event is commemorated with the large bas-relief, sculpted figures on the site. The sculptures have been refurbished and repaired by the Los Angeles County Arts Commission, to their original state when they were first built and dedicated in 1957.
Our small, but very dedicated group, reenacts this significant period in history by outfitting ourselves in authentic 1840s period uniforms, costumes, and accoutrements, of both soldiers and civilians, who participated in the building and maintenance of Fort Moore in 1847. We represent the first U.S. Dragoons, the 7th New York Volunteers, the first Iowa Volunteers (also known as the Mormon Battalion), and the Californios (local Californians of Mexican descent), all of whom are depicted on the Fort Moore Pioneer Memorial sculptures. We have also been very active in supporting the Rededication Ceremony being planned for the Fort Moore Pioneer Memorial.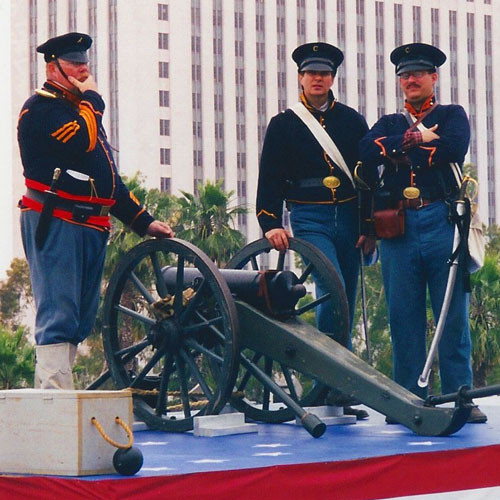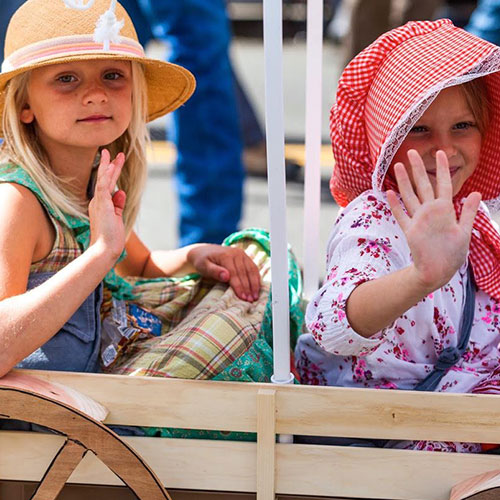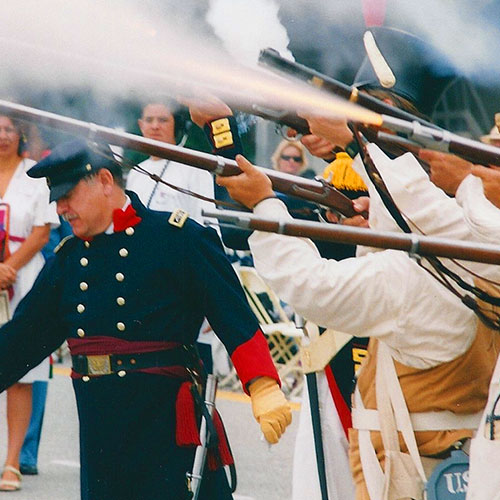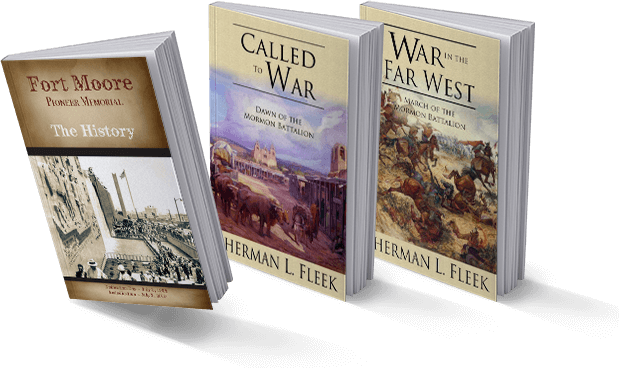 Donate and Receive FREE Historical Books!
Your $500 or above tax-deductible donation entitles you to receive a complimentary, twin-set novel series about the historic trek of the Mormon Battalion. Your $50 or above tax-deductible donation entitles you to receive a complimentary book about the history of Fort Moore.*
*Copy placed in the time capsule at the Fort Moore Memorial.